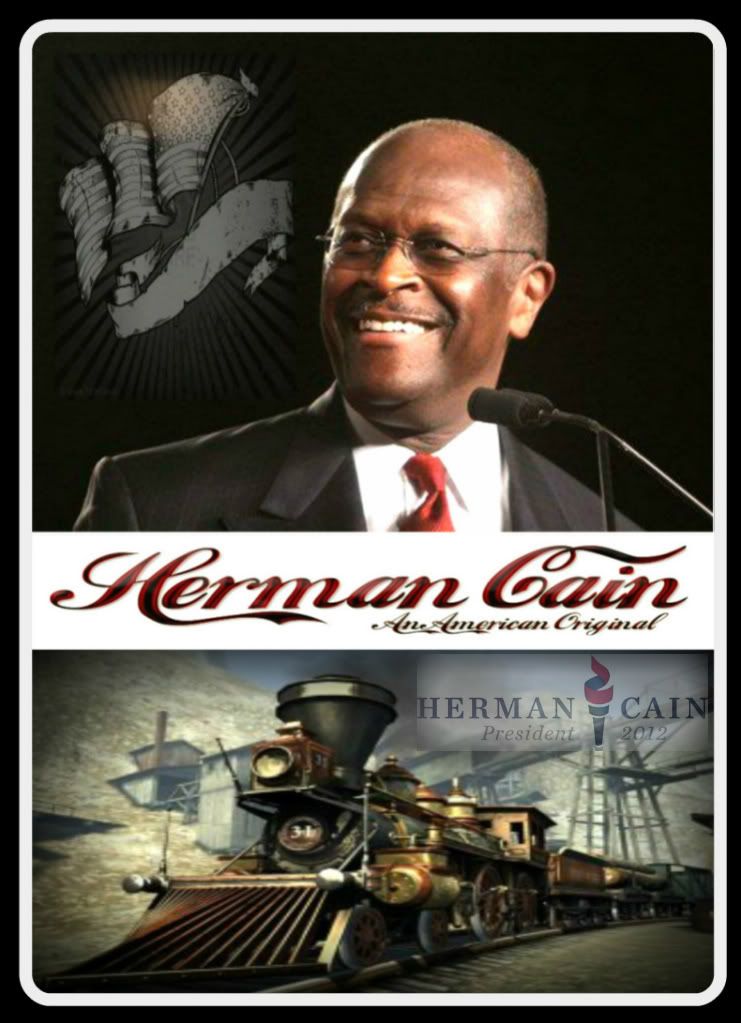 Your Weekly Cain Connection: 9/18/2011
Poll Places Herman Near the Top
In the latest Zogby Poll, Herman captured 12 percent of the vote and placed third behind only Rick Perry and Mitt Romney. When
voters were asked whether they would support Herman or President Obama in a hypothetical matchup, Herman only trailed Obama by 3 percent. With more name recognition, Herman would definitely have surpassed the president. This poll is very good news for the campaign, and we expect Herman's popularity to rise as more voters hear about his message of Common Sense Solutions. Click here to visit Zogby's website and read more about the poll.
Herman Cain Discusses His "9-9-9 Plan" on Fox News
Herman's Economic Plans Featured in Major Publications
During the last week, "Cain's Vision for Economic Growth," including his bold "9-9-9 Plan," were featured in major editorial sections including the Wall Street Journal and the Washington Times. This is truly a sign that Herman's message of Common Sense Solutionsis spreading, and it is a very exciting time to be part of the campaign! This great nation needs a real leader to get us out of this economic state, and Herman Cain is the one who can best solve our economic problems. Make sure to check out the Washington Times piece hereand the Wall Street Journal piece here.
Herman performed spectacularly in last Monday night's debate in Tampa, Florida,and his answers on issues stood out among the crowd as ones that provided solutions instead of rhetoric. During the debate, Herman explained that a Social Security system similar to Chile's or the City of Galveston's would work better and be more sustainable than the current system. Moreover, he was able to explain his "9-9-9 Plan"to the viewers. This was a huge opportunity for Herman to share his ideas on the biggest issues of the day—the economy and entitlements—and he delivered eloquently. Check out this CNN blog about Herman's economic plans.
South Carolina Common Sense Solutions Bus Tour

This weekend, Herman's Common Sense Solutions Bus Tour headed to South Carolina. During his visits to Aiken, Simpsonville, Rock Hill, Myrtle Beach and Charleston, Herman once again showed the voters a true leader with common sense, problem-solving, solutions. Herman received standing ovations and great support for his principled, no-nonsense approaches to solving America's problems. Herman was excited to visit with the great people of the Palmetto State. No candidate has secured the Republican nomination without winning South Carolina, and—with your help—we will take the Palmetto State in 2012.
Florida Common Sense Solutions Bus Tour
Fox News Presidential Debate
Make sure to check out the Republican Presidential Debate on Fox News this Thursday, September 22, to see Herman discuss his ideas and platform. The debate will begin at 9 p.m. ET and last two hours. It is located in Orlando, Florida, and it is happening during our Florida bus tour. It will be a great opportunity to see Herman especially following his great performance at the CNN/Tea Party Republican Presidential Debate last week.
The Presidency 5 Straw Poll in Orlando this Saturday, September 24, is an excellent opportunity for Herman to show his strength in the Sunshine state. The Presidency 5 Straw Poll has been a good indicator of the Republican nominee in the past, and it would be a huge boost for Herman to have a strong showing. We are excited about the great opportunities and strong level of support in the Sunshine state. Help us reach more voters by clicking here to donate.
Pledge to donate each day in September, with your donation in an amount equal to the day of the month. For example: $1.00 for September 1st, $2.00 for September 2nd, $3.00 for September 3rd, and so on. Watch your emails for the "SeptemberPUSH" donation link for each day.

Donate daily for the entire month and receive a fresh-off-the-press, autographed copy of Herman's new book, This is Herman Cain, to be released in October.

All supporters who donate the entire "SeptemberPUSH" total ($465.00) will also receive a special prize package, full of Friends of Herman Cain collateral items and information about Herman's bold and innovative "9-9-9 Plan"to revitalize our nation's economy.
Today is the 20th day of September, so please consider a $20dollar donation. Every bit helps!